Whatcha say we take a road trip? Not just any road trip, but a "bucket list" cross-country I-80 road trip… on the iconic east-west Interstate highway that stretches almost 2,900 miles from San Francisco to Teaneck, New Jersey.
We invite you to embark on an unforgettable road trip adventure along this historic and scenic route.
Buckle up, and let us take you through the fascinating history, breathtaking landscapes, and remarkable attractions that await you on your journey along Interstate 80.
A Road with a Rich History
Interstate 80's history is deeply intertwined with the development of the United States' vast highway system. Originally conceptualized as part of the Interstate Highway System in the 1950s, construction of I-80 commenced in 1956, and it took an impressive 30 years to complete. Today, it stands proudly as a testament to modern engineering and a symbol of progress and connectivity.
But its significance goes beyond just being a modern marvel. Interstate 80 follows much of the historic Lincoln Highway's original path, the nation's first transcontinental road. As you drive along I-80, you'll be retracing the steps of pioneers and explorers who once ventured westward, seeking new opportunities and dreams. This road not only connects states but also bridges the past and present, a constant reminder of America's journey toward a brighter future.
A Scenic Journey from Coast to Coast
Let's dive into the exciting itinerary of your I-80 road trip, exploring the unique landscapes and attractions in each state it passes through:
San Francisco, California – The Journey Begins
Start your I-80 adventure in San Francisco, where the majestic Golden Gate Bridge and vibrant Bay Area culture await. Explore iconic landmarks like Alcatraz Island and Fisherman's Wharf. Indulge in diverse culinary delights, from clam chowder bread bowls to Chinatown's fusion of flavors. Don't miss the iconic cable cars offering panoramic city views.
Cross the bay to lively Oakland, known for its arts scene and Jack London Square waterfront. Sample diverse cuisines, from food trucks to upscale eateries. Embrace the charm and flavors before you hit the road for an unforgettable journey through America's heartland.
Reno, Nevada – Discover the Wild West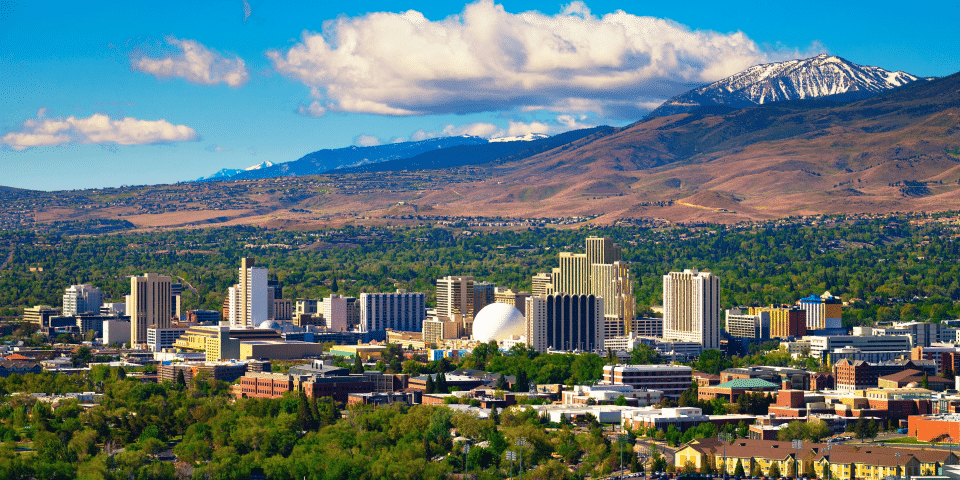 As you travel through Nevada, you'll encounter stunning vistas of the Sierra Nevada Mountains, offering breathtaking views that are sure to leave you in awe. In Reno, nestled in a picturesque valley, you'll experience a taste of the Wild West with its vibrant casinos and lively atmosphere.
Don't miss the chance to appreciate the natural beauty along the Humboldt and Truckee Rivers as you make your way towards Utah. Enjoy the diverse landscapes and immerse yourself in the history of these remarkable places as you embark on your journey along Interstate 80.
Salt Lake City, Utah – A Haven of Natural Beauty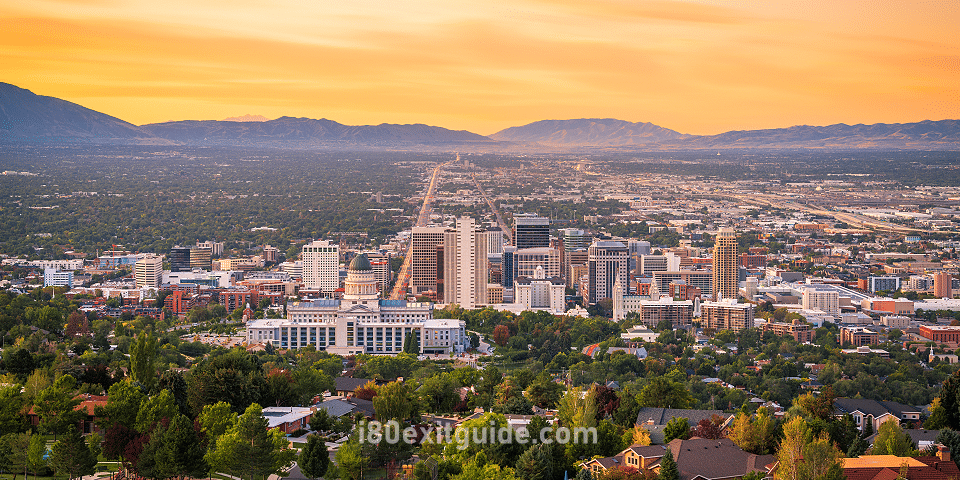 Utah's capital city, Salt Lake City, offers mesmerizing beauty and iconic landmarks, such as the Great Salt Lake and the impressive Wasatch Mountains. From barren salt flats to picturesque forests and mountains, Utah's diverse landscapes will leave you in awe.
Explore the wonders of the Great Salt Lake and embrace the adventures that await you amidst the stunning Wasatch Mountains. Experience the natural beauty and outdoor opportunities that make Utah a captivating destination on your journey along Interstate 80.
Crossing the Rocky Mountains in Wyoming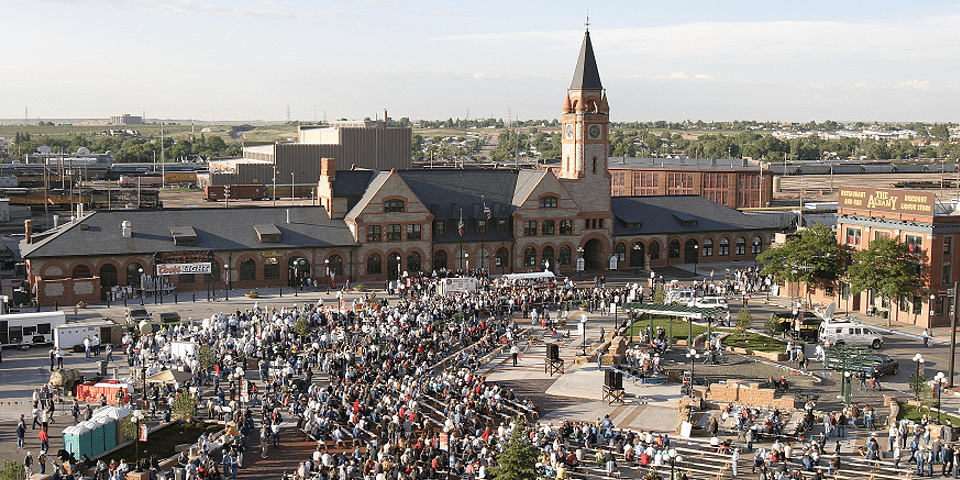 Experience the breathtaking landscapes of Wyoming as you drive along Interstate 80. The journey takes you to the state's highest point, the Sherman Summit, near the intriguing ghost town of Buford. Traverse the majestic Rocky Mountains and cross the Continental Divide twice, surrounded by rugged beauty and untamed wilderness. Wyoming's captivating scenery and untouched nature will leave you in awe.
Embrace the spirit of adventure and savor the freedom of exploring the great outdoors. Let this unforgettable journey through Wyoming's scenic wonders be a source of inspiration and admiration for the beauty of nature.
America's Heartland – Nebraska and Iowa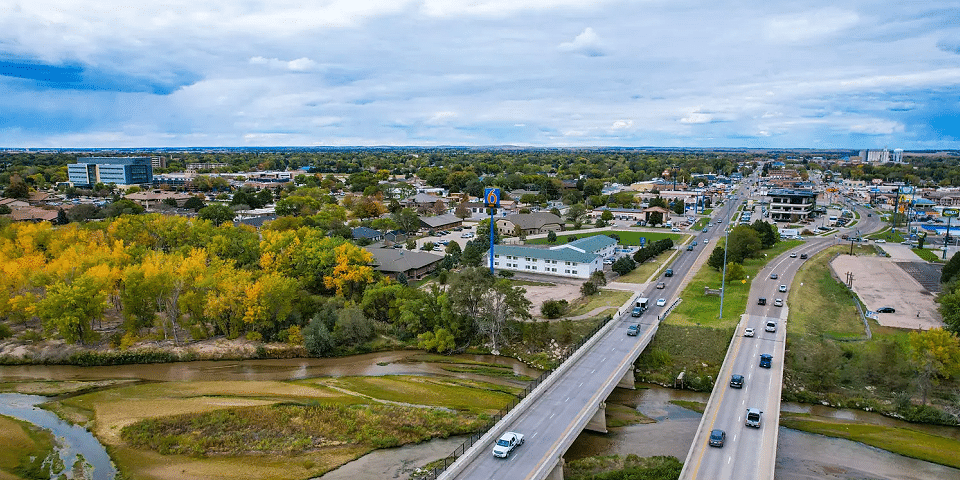 As you head eastward, you'll enter America's heartland, where Nebraska and Iowa await with their unique appeal.
Nebraska's open roads and straight stretches offer a sense of freedom, and the vast landscapes inspire a connection with the Midwest's expanse.
In Iowa, you'll be amazed by the endless fertile farmlands, a testament to the state's rich agricultural heritage.
Appreciate the distinct charm of Nebraska and Iowa as you journey through the heartland. Embrace the warmth and hospitality of these states as you embark on your road trip along Interstate 80, enriched by the experiences and discoveries that lie ahead.
Chicago, Illinois – The Windy City Beckons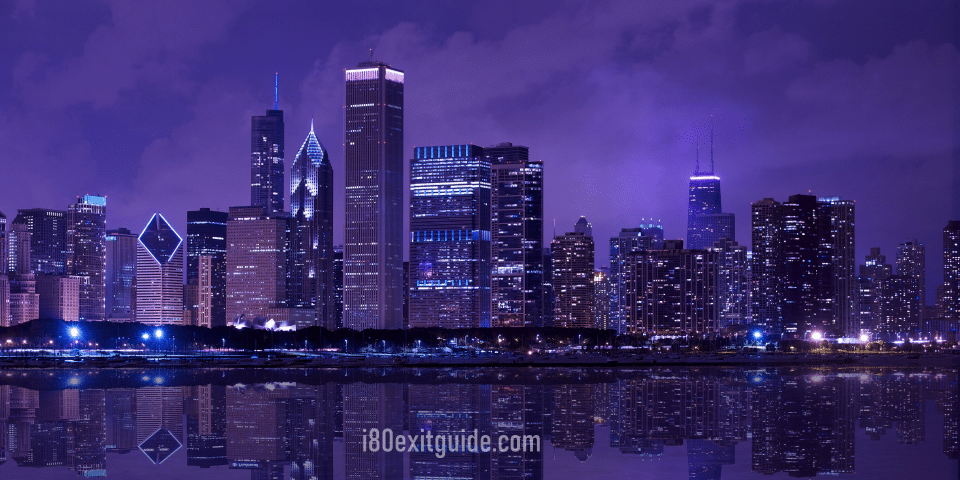 As you cross the Mississippi River into Illinois, you'll be close to the famous city of Chicago. Consider taking a detour north to experience Chicago's vibrant culture, impressive architecture, and delicious food scene.
Don't miss the iconic skyline, shopping along the Magnificent Mile, and renowned cultural institutions. Enjoy the city's famous deep-dish pizza and take a boat cruise along the Chicago River for scenic views. Chicago's allure will leave a lasting impression on your journey.
Gary, Indiana – A Tale of Industrial Heritage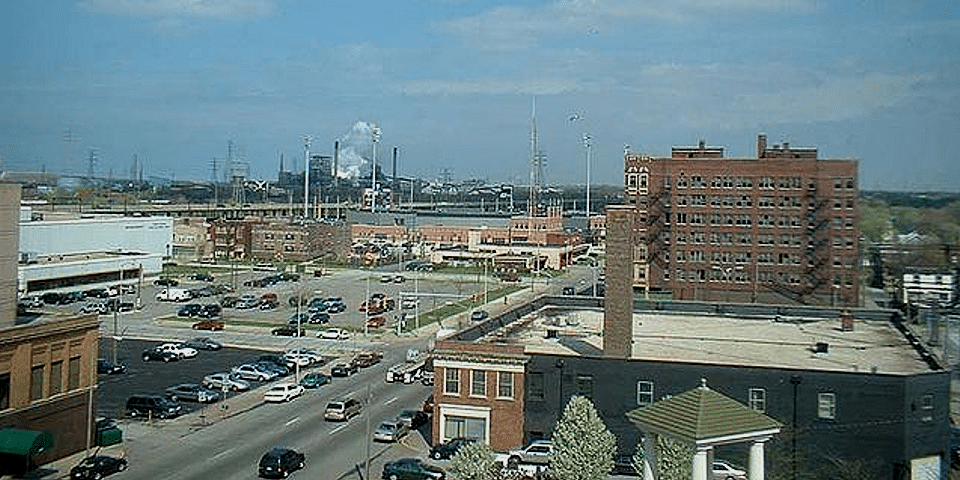 As you enter Indiana, you'll come across Gary, a city nestled along the southern shore of Lake Michigan. Interstate 80 runs concurrently with I-94 through much of the state, offering a fascinating mix of history, industry, and natural beauty. Enjoy the scenic setting of Gary, where the city's urban life meets the tranquil waters of Lake Michigan.
Explore Indiana's diverse landscapes, from lush forests to rolling hills and rivers. Discover the state's rich history, particularly its role in the nation's steel industry. Take time to experience the unique attractions and hidden gems that make Indiana a charming destination on your journey along Interstate 80.
Ohio's Crossroads and Pennsylvania's Natural Beauty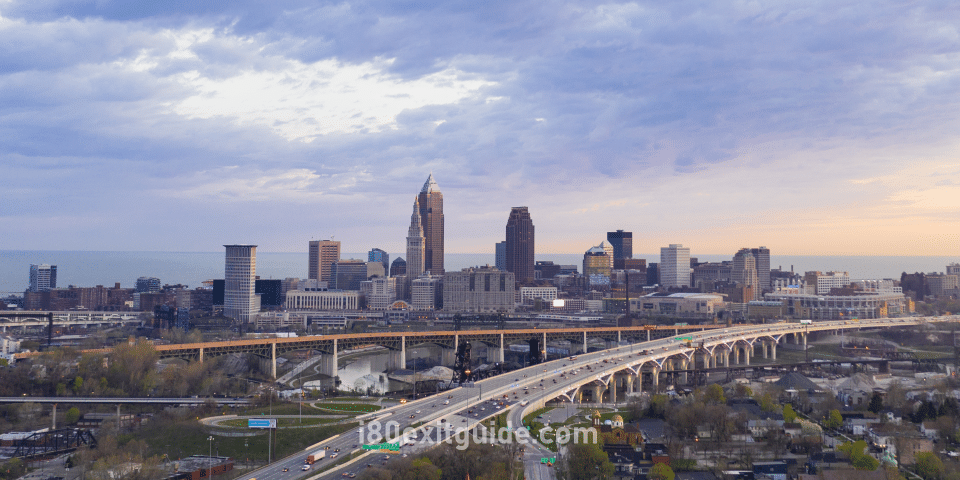 As you drive through Ohio on the Ohio Turnpike, you'll pass by Toledo and eventually reach Cleveland. Continuing into Pennsylvania, you'll encounter stunning natural landscapes alongside metropolitan areas like Pittsburgh. Explore Toledo's cultural heritage and the picturesque views of the Maumee River. In Cleveland, experience the city's industrial history and vibrant waterfront.
Pennsylvania offers a mix of urban charm in Pittsburgh and serene countryside in the Laurel Highlands and Pocono Mountains. Embrace the beauty and diversity of these states as you journey along Interstate 80, creating cherished memories along the way.
Journey's End in New Jersey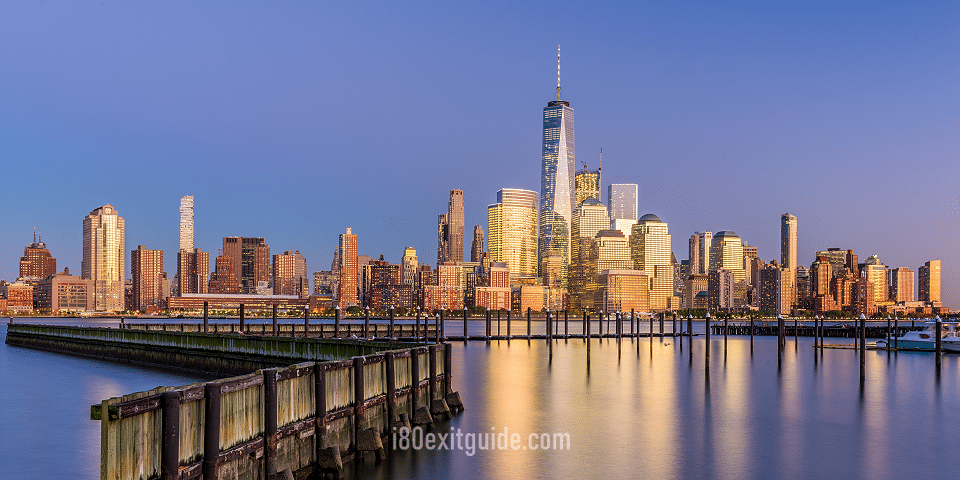 Finally, your adventure culminates in Teaneck, New Jersey, just a few miles away from New York City. As you say goodbye to Interstate 80, you'll realize it was not just a means of travel, but a pathway to exploration and discovery, connecting you with the heartbeat of America. Teaneck's tranquil suburbia provides a peaceful contrast to the bustling excitement of the city, offering a perfect ending to your unforgettable road trip.
Take time to reflect on the diverse landscapes, communities, and history you've experienced along the way, leaving you with cherished memories and a deeper appreciation for the spirit of exploration.
Best Camping Along I-80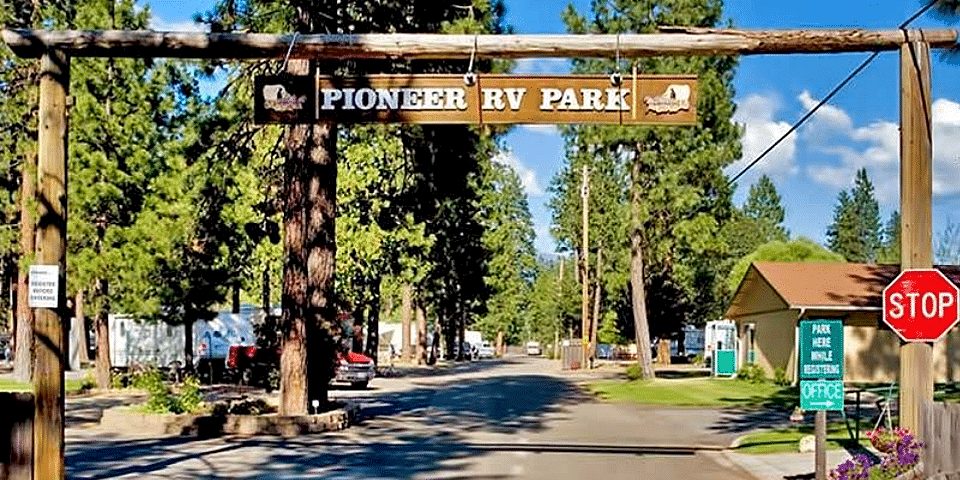 While the allure of driving across the country is undeniable, we recommend taking some breaks along the way to explore the natural wonders and outdoor treasures that await you. Here are some fantastic camping spots to rejuvenate your spirit during your I-80 journey:
Pioneer RV Park – Quincy, CA
Located in Quincy, California, Pioneer RV Park offers a charming escape surrounded by nature. With well-maintained RV spots, friendly staff, and an array of outdoor activities nearby, it's a hidden gem for adventure seekers. Embrace the enchantment of this oasis and create cherished memories. Visit Pioneer RV Park in Quincy, CA, and let nature captivate you! more…
Bordertown RV Resort – Reno, NV
Nestled in the picturesque Sierra Nevada Mountains, this resort offers stunning views and a serene ambiance. Enjoy top-notch amenities and well-maintained RV spots, making your stay a comfortable one. For some excitement, the attached Bordertown Casino and Arena offer a thrilling gaming experience. Explore Reno's vibrant city and nearby attractions, including the breathtaking Lake Tahoe. Bordertown RV Resort in Reno, NV, promises an unforgettable getaway for nature lovers, adventure seekers, and casino enthusiasts alike. more…
Deer Run Resort – Elkader, IA
Deer Run Resort offers a serene escape surrounded by nature. Enjoy water activities at the nearby Turkey River or explore the woodlands through hiking trails. The resort's cozy cabins provide comfort and modern amenities for a relaxing stay. Witness breathtaking sunsets and gather around bonfires under the stars. Discover Elkader's rich history and charming attractions. Deer Run Resort in Elkader, IA, is your perfect tranquil retreat, where nature and comfort blend harmoniously. more…
Old Mill Stream Campground – Lancaster, PA
Old Mill Stream Campground offers a tranquil retreat in Amish Country. Choose from tent camping, RV sites, or cozy cabins, all providing picturesque views of the Mill Stream. Immerse yourself in Amish culture by exploring farms and charming craft shops. Enjoy family-friendly activities like swimming, mini-golf, and nature walks. Experience the allure of each season in this rustic paradise. more…
More I-80 Campgrounds and RV Parks…
Best Shopping Along I-80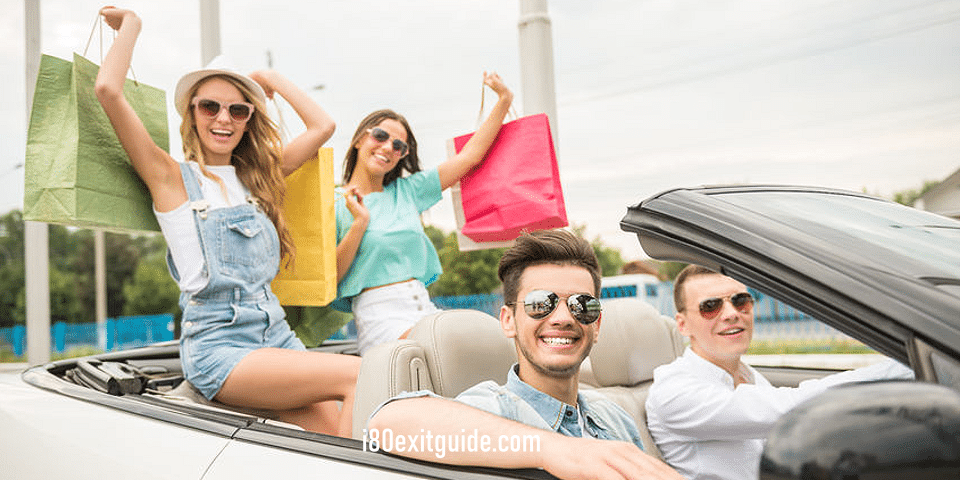 I-80 Outlet Malls… for many travelers, outlet shopping has become an important part of travel planning. More and more vacation itineraries include shopping. Here a some of the more popular outlet shopping locations along I-80.
Nebraska Crossing – Gretna, NE
Nebraska Crossing is a premier shopping destination located in Gretna, Nebraska. Situated just 20 miles west of Omaha, and 35 miles east of Lincoln. It offers an exceptional retail experience for visitors. The outlet mall is renowned for its upscale brands and discounted prices, making it a favorite among savvy shoppers. more…
Aurora Farms Premium Outlets – Aurora, OH
Aurora Farms Premium Outlets® is conveniently located off State Route 43, minutes from Cleveland and Akron, in Aurora, OH. Shop more than 50 designer and name brand outlet stores including Coach, kate spade new york, Michael Kors, Nike Factory Store, aerie, American Eagle Outfitters, and the North Face. Enjoy exceptional brands at extraordinary savings of 25-65% for outdoor shopping that's always worth the trip. more…
The Outlets At Bergen Town Center – Paramus, NJ
The Outlets at Bergen Town Center is located in Paramus, New Jersey. It is a popular shopping destination in the region, with over 70 stores offering a range of designer and brand-name merchandise. more…
Outlets At Traverse Mountain – Lehi, UT
Located just 20 minutes south of I-80, on I-15, The Outlets at Traverse Mountain is an outdoor outlet mall located in Lehi, Utah. It opened in 2014 and features over 50 stores, including popular brands such as Nike, Coach, Adidas, Levi's, and Kate Spade. The mall is situated at the base of the Traverse Mountains, providing beautiful views of the surrounding area. more…
Best Theme Parks Along I-80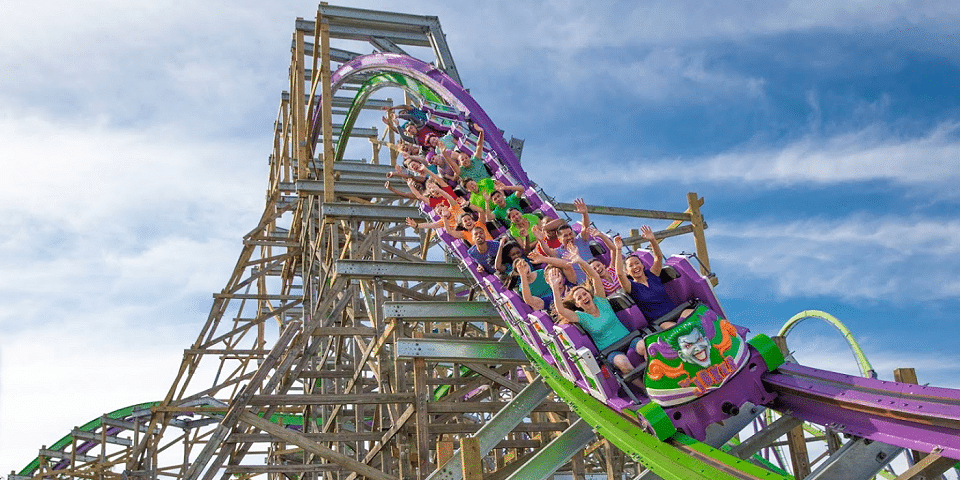 Several fantastic theme parks are conveniently located just a short drive from Interstate 80, providing endless fun and excitement for thrill-seekers and families alike. Whether you're a fan of heart-pounding roller coasters or prefer the charm of classic amusements, these parks have something for everyone to enjoy. Here are some of the more popular ones.
Six Flags Discovery Kingdom – Vallejo, CA
Six Flags Discovery Kingdom is a 135-acre animal theme park located in Vallejo, California, off of Interstate 80 between San Francisco and Sacramento. Six Flags Discovery Kingdom is the Thrill Capital of Northern California featuring a unique combination of animal attractions, thrilling rides, exciting shows and wildlife presentations. more…
Cedar Point – Sandusky, OH
Cedar Point is a 364-acre amusement park located on a Lake Erie peninsula in Sandusky, Ohio. Opened in 1870, it is considered the second-oldest operating amusement park in the U.S. Known as "America's Roller Coast", the park features 16 roller coasters – third-most in the world. more…
Knoebels Amusement Resort – Elysburg, PA
Knoebels Amusement Resort is a family-owned and operated amusement park, picnic grove, and campground in Elysburg, Pennsylvania. Opened in 1926, it is America's largest free-admission park. The park has more than 60 rides including three wooden roller coasters, three steel roller coasters, a 1913 carousel, and a haunted house dark ride. more…
A Journey to Remember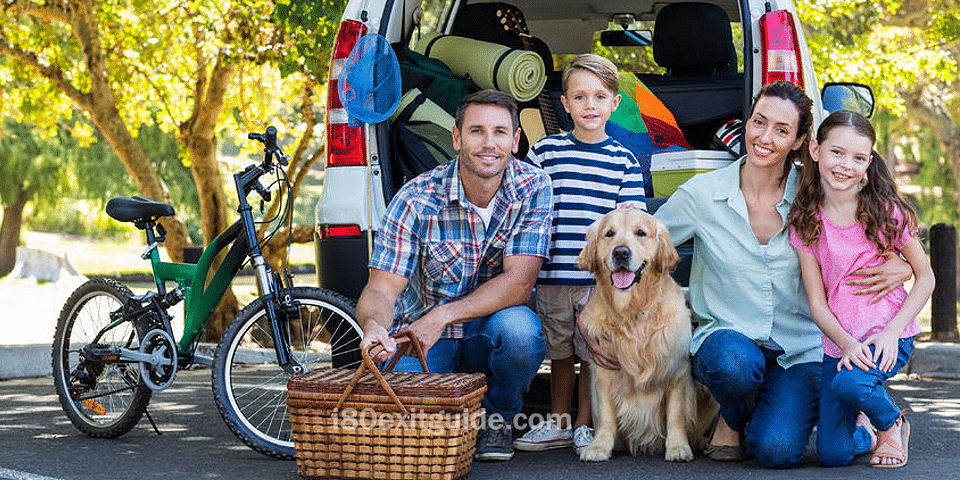 As you reflect on your I-80 road trip, you'll realize that this journey was not merely about covering miles but about discovering the heart of America. From the historic paths it follows to the natural wonders it unveils, Interstate 80 is a celebration of our country's past, present, and future.
At I-80 Exit Guide, we believe that every traveler along this iconic route contributes to its legacy, making new memories and forging connections along the way. So next time you're planning an adventure, remember that Interstate 80 is not just a road; it's a lifeline that connects you to the pulse of America.
Embrace the freedom of the open road, take in the breathtaking landscapes, and savor every moment of this unforgettable journey. Together, let's make the I-80 road trip an experience worth sharing and cherishing for generations to come.